The independent definitive SsangYong Turismo (2013-2015) video review
This is a sample, showing 30 seconds of each section.
A JOURNEY INTO SPACE
(some text hidden)
By Jonathan Crouch
Introduction
word count: 104
You'd think that space, value and sheer capability would be priorities for MPV buyers. The sales figures might suggest otherwise but if these remain key criteria in your search for a truly practical used seven-seat People Carrier, then it's well worth considering this one, SsangYong's Turismo. Based on the brand's old Rodius model but far smarter looking, it's certainly not a conventional choice and it comes from a Korean maker that may be unfamiliar. Still, in terms of sense and sensibility in this segment, there's not a lot to touch it. Here, we're going to look at the original version of the post-2013 model.
Models
word count: 13
5dr large MPV 4x4 (2.0 diesel [S, ES, EX - 2WD & 4WD])
History
word count: 483
Searching for a properly spacious family People carrier can be a frustrating process. Let's assume that, quite reasonably, you want a seven-seat MPV that can actually seat seven people, not five adults and two midgets at the very back. So a Grand Scenic-sized compact model won't suit. And that, just as reasonably, you want those seven folk to be able to bring a decent amount of luggage with them. So a Ford Galaxy or a Volkswagen Sharan still won't be quite big enough. You'll need a diesel engine to keep running costs down - and a reasonably sized one so that there's plenty of pulling power when heavily laden or when towing. You a want a proper car, not a van with seats and windows. And you'll need to keep within a realistic family or business budget. It's a perfectly reasonable set of requirements that very few models can meet. Here's one of them. For SsangYong, being able to achieve all of this with one product is nothing new. In 2004, the brand introduced the Rodius, a huge People carrier built on a 1990s Mercedes E-Class platform that shared its chassis with a luxury saloon called the Chairman that the company had made for its home South Korean market. A Rodius could tick all the buying boxes we've just listed, which ought to have made it a huge worldwide hit. Which it might have been but for ungainly styling which continued to prove a sales impediment even when SsangYong replaced the car's thirsty old five cylinder Mercedes diesel engine for its own far more efficient four cylinder unit in 2012. Cue the £100 million investment that in 2013, brought us the Rodius as it always ought to have been, with a new name - the Turismo - and smart sensible styling that now clothed the previous model's hugely practical '2-2-3' seven-seater cabin layout. Thanks to the restyle, dealers found it much easier to get potential customers behind the wheel to experience SsangYong's more efficient e-XDi diesel engine. Once there, sales folk could point out to them not only all of the space and value boxes this car could tick but also the fact that almost uniquely, this MPV could be ordered with high and low ratio 4WD, opening up People Carrier ownership to buyers who previously, in the search for a seven-seater tow car, had to put up with a clunky large SUV. On paper, it all added up to one of the best value, the most capable and the most practical 7-seat MPV on the market. In the 2013 to 2015 period though, SsangYong remained an unfamiliar brand in the UK and buyers were wary, so this original version of the Turismo remains a relatively rare sight on our roads. In early 2016, this car's 2.0-litre e-XDi diesel engine was replaced by a more efficient, more powerful 2.2-litre unit. What You Pay
What You Get
word count: 1290
There are larger cars than this one currently on sale in the UK market but not many. A Turismo is a lofty 1.85m high, occupies a vast 2m of width and dwarfs a Range Rover by measuring well over 5m from end to end including a central 3 metre wheelbase section bigger than the total length of something like a Toyota iQ. So it's big. Very. Which was also true of this car's direct predecessor, the Rodius - but that was a car that neither disguised its bulk or made any attempt to smarten it. This model in contrast, exercises the cleverness of the modern stylist's pen, so its size looks manageable for a trip into the urban jungle, even if the tape measure suggests it to be just as huge as before. And you'll park up without curious glances from passers by who might previously have made a disparaging remark had you turned up in a Rodius. To be honest, we always quite liked the Rodius. It was different, which is always a bit refreshing, and never pretended to be anything it wasn't. Such a pity then, that it was so odd to look at, especially from behind. All SsangYong had to do was to clothe all that practically in a more universally acceptable shape and they'd have a potentially strong seller - which, as we've been saying, is exactly what's happened here. Styling still won't attract many to this car but crucially, it'll no longer be a sales impediment in the way it was before, with the hexagonal-shaped radiator grille and trapezoidal bumper both neat touches. Move further back, past the exaggerated wheelarches and you come upon a solid C-pillar that successfully covers the more extreme aspects of the old Rodius' original glassy structure. The tailgate's smart too, almost Ford Galaxy-like with its angular rear lamps and boomerang-shaped reflectors. But of course what matters is what lies within. We could talk millimetres of headroom, wheelbase and such like, but in order to really get a handle on the size of the Turismo body, consider this. In some world markets, the original version of the Rodius this car's based upon was sold as an eleven-seater and the design we have here is no smaller. Therefore, when you 'only' try to accommodate seven people - here in a layout that sees two at the front, two in individual chairs in the middle and three on a bench at the back - you have a fairly unconfined amount of breathing space. This helps solve that problem inherent in most seven-seat MPV-style vehicles of having no luggage room available when all the seats are in use. In fact, there's more space in the back of the Turismo with all the seats in place than you'd get if, in the same configuration, you combined the luggage capacities of a Ford Galaxy, a Vauxhall Zafira Tourer and a SEAT Alhambra. The volume in question amounts to 875-litres - though to be fair, that applies only if the third row bench is pushed as far forward as it will go. Both second and third row seats you see, can be slid backwards and forwards on recessed floor rails to prioritise either people or packages. If you need more luggage space, you can fold the backrest of the third row forward onto its base - unfortunately, unlike more modern MPVs, the seats in this one don't fold flat into the floor. Or if you're feeling strong, have an extra pair of hands to help and have garage storage, you can remove said bench completely. Given the hassle involved, you'll probably only want to do this if you absolutely have to use the middle seats and haven't released enough space by simply pushing them forward a bit. If those central two 'captains chairs' aren't needed by people and you're in a 'removal van' frame of mind, it'll be much easier to simply fold them in half too (they don't fold into the floor either). In which case the amount of space available really does conform to removal van standards - 3,146-litres in total. That may be a fraction less than a Chrysler Grand Voyager but it's still vastly more than most families will ever need. To put this Turismo's interior size into perspective, a huge Land Rover Discovery has just 2,558-litres. And neither the Chrysler or the 'Disco' can match this SsangYong's premier party trick of being able to fold both its second and third row seating flat to make a pair of double beds. This Turismo's certainly no camper van but that's a useful feature even so. So much for baggage space: what about room for people? Open one of the huge doors and the first thing you might have to get used to is the slightly strange cabin layout. Most People Carriers have room for three in the middle then two extra chairs at the very back. Here, it's the other way round. You can see SsangYong's logic here. If you're setting out to get to the third row, there's room between the two individual middle chairs to walk through to the very back, rather than having to contort the middle seat with wheels and levers, folding it out of the way as is the MPV norm. On the other hand, it does mean that a family that has three kids will have to travel with one of them relegated to the very rearmost seat. It's a good arrangement for keeping fractious children apart but such enforced separation may also induce tantrums should your brood be of the particularly unruly sort. It may be better then, when travelling five-up, to get all three of your rearward passengers seated on the third row bench where there'll be proper adult-style First Class 747-levels of legroom. Even if the middle two chairs are pulled right backwards and folded in half for the back seat trio to use as picnic tables. Then everyone's happy. Well almost everyone. The middle third row occupant will be placed on a foam filled pad rather than a proper recessed seat base. They'll also have to do without the twin cupholders thoughtfully provided for those on their left and right. As a result, they may well feel that they've drawn the short straw. There are no such issues if you've wangled yourself a seat in the second row on one of the sliding, reclining 'captain's chairs' we mentioned earlier, each one equipped with an integral armrest and enough legroom to remind you that this cabin works off the same kind of wheelbase size as a Mercedes S-Class limousine. Here, there are also picnic trays that fold out of the front seatbacks in front of you. This is also where really small infants may have to travel, for it's the only part of the car where the seats are fitted with Isofix childseat fastenings. And up front? Well here, the changes over the old Rodius model are relatively minor. So this Turismo shares it's predecessor's unusual central instrument cluster, dash-mounted gearshift and array of warning lights in front of the vast four-spoke leather-trimmed steering wheel. Shiny, scatchy plastics are still more prevalent than you'd expect to see in a modern car at this kind of price but a few efforts have been made to smarten things up a bit, notably with the addition of aluminium-effect plastic detailing on the dash and centre console to create what SsangYong hopes is a more up-market feel. As for practicalities, well though it's true that some smaller rivals do offer more cabin storage space, there's still plenty of it with large door storage bins, a cubby under the front armrest and enough cupholders for the Real Madrid trophy room.
To see the full road test text contact us on 0330 0020 227
Pictures
(high res disabled)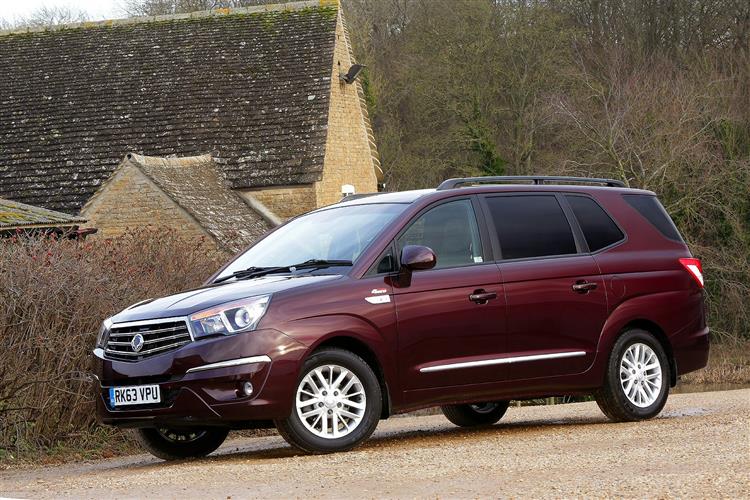 Scoring
(subset of scores)
Category: MPV People Carriers
Performance
Handling
Comfort
Space
Styling, Build, Value, Equipment, Depreciation, Handling, Insurance and Total scores are available with our full data feed.
Client login
Mobile
Narrow
Narrower
Normal
Wide