The independent definitive Citroen Grand C4 Picasso (2013-2016) video review
This is a sample, showing 30 seconds of each section.
GRAND DESIGNS
(some text hidden)
BY JONATHAN CROUCH
Introduction
word count: 111
Citroen's classy, glassy second generation Grand C4 Picasso aims to offer the most practical, the most versatile and the most elegant solution to families shopping in the seven-seat compact MPV segment. It's a sector aimed at those who need a big boot and the option to take more than five folk, but don't want the sheer size and expense of a larger People Carrier. If that's you, then you'll find that this lighter, more efficient French contender takes care of the basics of space, safety and cost-effectiveness with ease, but where this model really excels is in the other things: style, technology and a very emotive feel. It's a bit special.
Models
word count: 12
(5 door MPV: 1.6 petrol, 1.6, 2.0 turbodiesel [VTR, VTR+, Exclusive, Exclusive+])
History
word count: 339
Buying a seven-seat MPV is usually an exercise in sacrifice. You accept the fact that in return for three seating rows, you'll get something boxy, boring and bland. Or will you? With this second generation Grand C4 Picasso model, Citroen tried to change things on that score. The Picasso name has been synonymous with Citroen People Carriers since the turn of the century and with 7-seat MPVs since the first generation Grand C4 Picasso model was launched in 2006. That car tapped into the major growth area in this segment amongst buyers who really only needed five seats but wanted the occasional versatility of a couple of extra fold-out chairs in the boot. This one set out to make that arrangement more usable, thanks to extra interior space released without the extra vehicle length buyers in this sector don't want. This came courtesy of the class-leadingly long wheelbase conferred upon this car by a clever, multi-patented EMP2 platform that was also claimed to sharpen up the previously rather stodgy handling. Better still, these practical and dynamic virtues were clothed in what is arguably the most stylish shape ever to clothe a family-minded MPV. Emboldened by the success of its boutique DS line of cars, Citroen decided at the beginning of the 21st century's second decade to inject a measure of style and desirability into many of its other wares. As a result, this design looks like something that's just driven off a motor show stand. With power provided by a range of engines that, at this model's launch in early 2014, helped it towards easily the most efficient running costs in its segment. In prospect then, what we have here is a very clever People Carrier indeed, with a glassy, futuristic combination of hi-tech style and efficient practicality that ought to set new standards in this segment. Does the original version of this second generation model that sold until a facelifted variant was announced in mid-2016 make sense? Does it stack up as a used buy? Let's find out.
What You Get
word count: 2283
Citroen is a brand with a heritage in design flair - but you don't always find it in the segments you'd expect. Given that this maker's conventional family models are, well, pretty conventional, you might assume that the company's People Carrier would be much the same. It isn't. At least not in this second generation Grand C4 Picasso guise anyway. A huge proportion of this vehicle's budget was lavished on aesthetics inside and out, with the result being a futuristic take on family transport that instantly makes almost everything else in this sector look dull and derivative. This seven-seater Grand C4 Picasso model does, of course, share plenty with its more compact five-seat C4 Picasso stablemate - though not quite as much as you might expect: Citroen claims in fact that only four main body parts are carried over between the two cars. As you'd expect, most of the design differences that set this lengthened 'Grand' version apart are to be found at the rear, where the rear wheels have been moved by 55mm and a lengthened roof, taller profile windows and longer rear doors make it easier to use the extra two boot-mounted fold-out seats. We also really like the signature profile flourish found in the way this contrasting roof rail flows from front to back before curling artfully round the rear window to highlight the spacious, glassy look. It all combines neatly with this second generation C4 Picasso's fashionable front end, a nose offering daytime running lights under a chrome strip where you'd expect the headlamps to be. These are further down, flanking the top corners of a trapezoidal air intake that sits below this lovely, softer-looking Citroen logo that sits front and centre. Other design features common to both five and seven-seat models include short front overhangs, a wider track and a lowering of both the engine bay and the floor. Moving round to the back, the Grand C4 Picasso bodyshape gets unique rear tail lights that on top variants get distinctive 3D illumination. Unfortunately, as with the ordinary C4 Picasso, they're mounted actually on the clamshell-style tailgate, making it rather heavy to lift if you opt to do without the (tediously slow) motorised assistance fitted to plush trim variants. With the hatch raised, you'll be able to access a cargo area that, thanks to this generation model's extra 56-litres of loadspace, can be one of the very biggest in the class - though not, it must be said, when all seven seats are in use. That's a seating layout that'll leave you just 165-litres of stowage space to play with. True, that's more than competitors like Vauxhall's Zafira Tourer, Volkswagen's Touran or Toyota's Verso can offer, but it's about 20% less than you'd get in a rival Renault Grand Scenic and is a much smaller space than you'd get with seven aboard in a rival Ford S-MAX. That won't matter too much to most likely buyers though, given that much of the time, they'll be using this car with the third row seats folded into the floor. Here again, the lengthier MK1 model Ford S-MAX offers more space - but only because it's a significantly lengthier car. Otherwise, no other compact seven-seat MPV can match what is, after all, the widest cargo area in the segment, stretching 1.17m between the wheelarches. As a result, with the sliding middle bench pushed right back, there's 632-litres on offer. Push it forward and that figure rises to 793-litres: to give you a bit of perspective, that's 91-litres more than a similarly-configured MK2 Renault Grand Scenic and nearly double the amount of space you'd get in, say, a Kia Carens or a Toyota Verso with five seats in use. So no, not all compact seven-seat MPVs are the same. It'll really pay you to do your homework when it comes to practicality. Where this Citroen's spaciousness really is impressive though, is when you're able to fold both second and third row seating and use all the luggage space it can offer - a full 2,181-litres, that a figure bettered only by Peugeot's 5008 in this segment. Most models also feature a fold-flat front passenger seat for longer items, allowing a load length of up to 2.75m. Again, we need to put this showing into perspective. In total capacity terms, we're talking nearly 10% more room than you'd get in a similarly configured first generation Ford S-MAX - which is astonishing when you consider that the Ford is a 171mm longer car. And this Citroen's total loading area is nearly 10% more than you'd get in a Renault Grand Scenic, around 20% more than is offered by a Vauxhall Zafira Grand Tourer, around 30% more than you'd get in a Kia Carens and over double what you'd get in a Toyota Verso. Time to move up-front. Get yourself behind the wheel and probably the first thing your Citroen sales person will show you is the Panoramic windscreen. Push up the sunvisor and your normal upward 28-degree angle of vision is increased to a massive 108-degrees - a better view out in fact than you'd get roof-down in a convertible where the windscreen rail is usually directly above your head. Practically, it means you don't have to crane your neck up when, for example, you're first in the queue at the traffic lights. Subjectively, this feature does wonders in increasing the light, airy feeling of the cabin but if you really don't like it, you can pull the sunvisor back down again to the point where the top of the roof would normally be. And that's just the start of the contemporary cleverness. Stylist Frederic Soubirou describes the interior as being inspired by contemporary loft-style living. It's uncompromisingly modern and airy with a few touches that are quite extravagantly designed, like the optional 'Relax' front passenger seat that lets the occupant raise, stretch and rest their legs. It comes with lovely headrests to give greater comfort and neck support. The dashboard is dominated by twin screens. Most new cars have some sort of central infotainment screen these days like this Citroen's tablet-style 7-inch display but more unusual is the snazzily futuristic 12 inch panoramic HD panel up top which, in true Picasso style, is offset to the centre of the fascia and replaces a conventional set of dialled instrument gauges. Unfortunately, this feature wasn't standard on all models, but if you're buying this car, do try and stretch up to a trim level that has it for this is one of the defining parts of this hi-tech design. This top screen is primarily there to show a virtual speedometer but it can also be configured to display up to fourteen separate pieces of numerical information, as well as features such as cruise control and speed-limiter settings. You can also change the display of the dials from round to square - though we're not sure why you'd want to. More useful is the option of changing the screen's overall theme and uploading a personal photograph from a USB stick as a backdrop. We're not quite so sure about the lower infotainment screen, though at least it's standard across the range. As well as managing sat nav, stereo sounds and Bluetooth compatibility, it also aims to reduce dashboard button clutter by replacing a conventional set of ventilation and air conditioning controls. While this seems a great idea in principle, it can be a bit annoying when, say, you're driving along with the sat nav showing, to have to take your eyes off the road and shuttle through the menus just to change the temperature, stabbing away at the touchscreen to try and get a response. There's more to the cabin than just those screens though. Unfortunately, a couple of irritations from the previous model were carried over - a fiddly electric parking brake and a steering wheel which, somewhat ironically given the clean open feel of the dash, is festooned with buttons. Still, everything else seems to work well and it was all beautifully screwed together by the Spanish factory, with a polished metal trim and stitched leather finish that's symptomatic of build quality leagues better than the previous Grand C4 Picasso thanks to some lovely soft-touch materials used on the dash as well as glossy blacks, sparkle-effect finishes and proper satin chrome inlays. Yes, if you hunt around in the nether reaches of the fascia you'll come across some cheaper plastics, but then that's a cost-cutting trick that you'll even find Audi and BMW pulling. Certainly, the days of Citroens feeling built down to a price with all the design flair of a buffet car cheese sandwich were consigned to the past with this model. Compare this cabin to that of, say, an old Xsara Picasso and you'd never believe they came from the same manufacturer. Better yet, compare it to that of a rival Kia or Volkswagen MPV from this era: switch into this Citroen after being used to one of those and it'd be like being upgraded from Economy to Business Class. So, it all looks and feels good. But will it be practically easy to live with? Possibly. Things don't get off to a terribly good start in this regard with the discovery of small narrow door pockets and the news that Citroen hasn't bothered to move the fuse box in the switch from left to right hand drive. This is important because said fuses have, in consequence, to take up nearly the entire capacity of the glovebox. Much better are the slide out drawers that most models offer beneath the front seats and the huge storage bin at the base of the centre console which includes a jack and a USB port. Equally large is the deep stowage box that's mounted between the front seats and is removable on automatic models. Finally, we'll mention what as a parent would be our favourite feature, the rear-facing 'conversation mirror', there to give an unimpeded view of which child has just stuffed its sticky sweet into your 12v port. So how will those children fare once they're installed rearwards and ready to plug their gaming equipment into one of the three 12v sockets scattered around the car? Well, pull open rear doors that here open wide to a 65-degree angle for excellent access and it looks pretty spacious. Which might come a little contrary to expectations given that this second generation Grand C4 Picasso is narrower and lower to the ground than the previous version. That'd be a problem for the passenger compartment were it not for the cleverness of the hi-tech Efficient Modular Platform this MK2 model sits upon which facilitated a significant wheelbase increase over the previous model (at 2.84m, it's the longest in the segment), despite an external length no longer than that of the previous generation version. What that all means is that it feels class-leadingly spacious inside, with 11cm more legroom than the previous generation model offered. True, the slight extra narrowness of this cabin might create the odd grumble if you've three really bulky adults passengers to carry shoulder-to-shoulder on a long trip, but a trio of smaller folk - or three children - should be very happy indeed. Especially in a top-spec version where they can marvel at a light airy feel emphasised by a huge optional panoramic glass roof that ups the combined glazed area to a greenhouse-like 5.7m2. Want more privacy? No problem. Most models came with integrated retractable rear side window sun blinds and original buyers could specify dark tinted rear windows. Practical touches include under-floor storage compartments and aircraft-style fold-out seat back tables that were optionally illuminated on top models by neat LED lights. There's a proper seating arrangement too. Unlike many People Carriers, this one doesn't position the unfortunate middle rear passenger with legs astride a central transmission tunnel and perched on some hard and narrow pierce of bulging foam. Instead, there's a completely flat floor and a rear cabin seating area made up of three separate identically sized chairs (all with Isofix childseat mountings) that can be reclined, folded flat or slid backwards and forwards independently of one another. That's really useful. Say you've got a small child on a booster seat in the back: you can push them forwards so their needs are more accessible. The various seat folding options are useful too. So, for example, if the middle seat's not in use, it can serve as a table to serve the outer two passengers. Alternatively, if you're only using the middle seat, you might want to use the 'cinema-style' feature on the outer two that enables the seat bases to be flipped up for extra floor storage. Finally, a word or two about the feature that sets this Grand C4 Picasso apart from its five-seater showroom stablemate - the third seating row. This is certainly easier to get to than it was on the previous generation model, thanks to a neat one-handed easy entry system. Get yourself seated and there are pluses and minuses. The dedicated air vents, climate buttons and cupholders are nice and Citroen reckons that it's class-leadingly spacious in the third row, but that still doesn't mean it'll be especially comfortable for two tall adults on a long trip. Having said that, we need to be fair about this: no compact MPV of just 4.6m in length is going to be able to offer that. On the plus side, the fact that the second seating row has the widest sliding range in the segment means that if you are travelling seven-up, it'll be easier to tailor the cabin to the needs and heights of your various occupants.
To see the full road test text contact us on 0330 0020 227
Pictures
(high res disabled)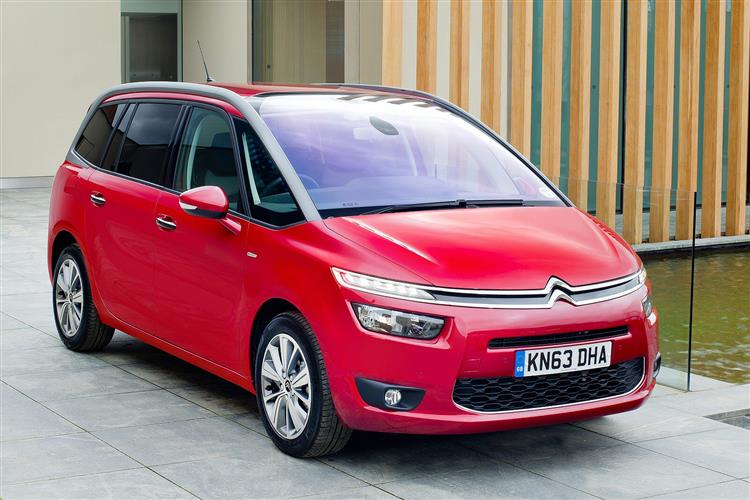 Scoring
(subset of scores)
Category: MPV People Carriers
Performance
Handling
Comfort
Space
Styling, Build, Value, Equipment, Depreciation, Handling, Insurance and Total scores are available with our full data feed.
Client login
Mobile
Narrow
Narrower
Normal
Wide